Wetlands Restoration through Conservation Easements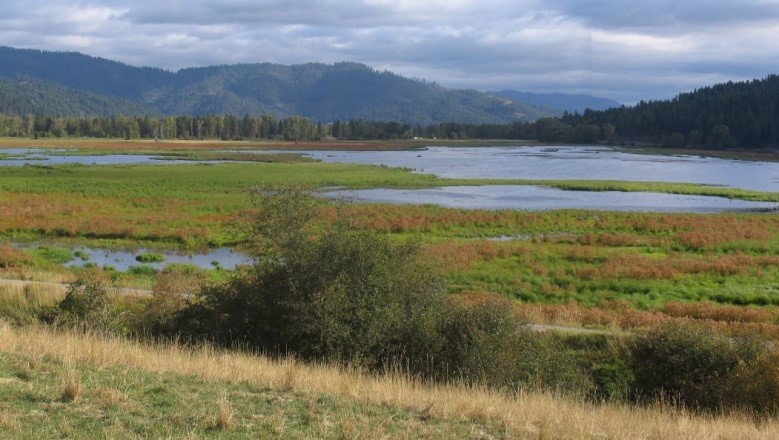 Example of a wetlands conservation and restoration project along the Coeur d'Alene River corridor
Status: Complete
Location:
Wetlands habitats along the Coeur d'Alene River corridor in Kootenai County, Idaho.
Background:
Wetlands in the Coeur d'Alene River floodplain are affected by a legacy of mine waste contamination including metals that are harmful to waterfowl and other wildlife. Wetlands habitats have also been altered with ditches and drains for agricultural development. There is a need to identify, conserve, and restore sites with strong potential to provide high quality wetlands habitat for waterfowl, especially locations where birds can feed without experiencing lead poisoning.
Restoration Completed:
The project will conserve agricultural properties that may be converted to productive clean wetland habitat for waterfowl and other wetland-dependent wildlife. Three landowners have established conservation easements on their property. These conservation easements will be used to protect the properties and allow for future cleanup by the U.S. Environmental Protection Agency (where needed) and restoration to convert drained agricultural lands into productive functioning wetlands.
Benefits:
The project will conserve properties to protect wetlands habitat values and to provide future opportunities for remediation and restoration. Ultimately, this will result in productive, clean wetland habitat that will provide habitat for waterfowl and other wildlife.
Contact:
Elise Brown
U.S. Fish & Wildlife Service
Idaho Fish and Wildlife Office
3232 W. Nursery Road
Coeur d'Alene, ID 83815
elise_brown@fws.gov

Sponsor:
U.S. Fish and Wildlife Service
Partners:
Inland Northwest Land Conservancy