St. Joe River Streambank Stabilization and Vegetation Project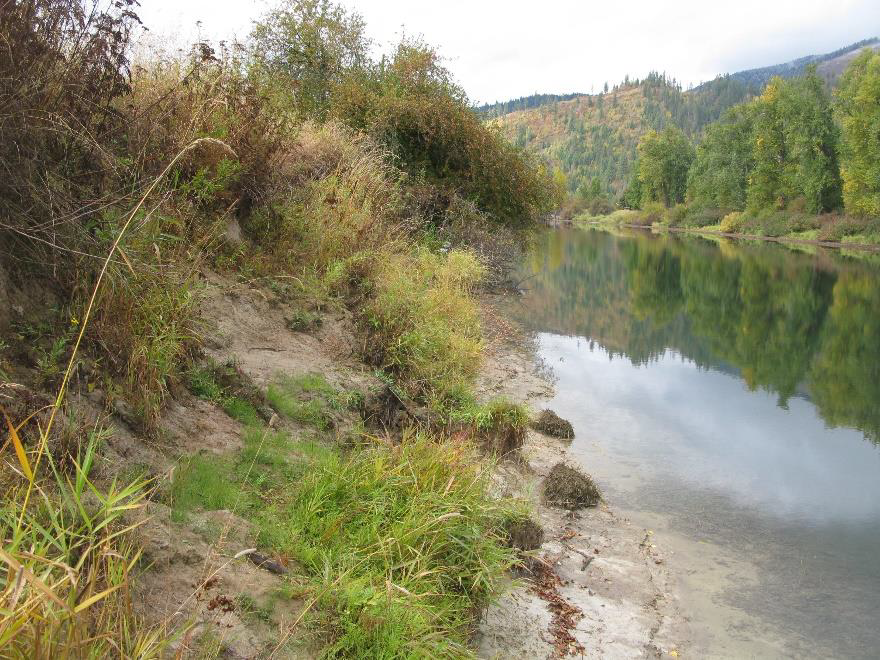 Eroding bank at the St. Joe River (before)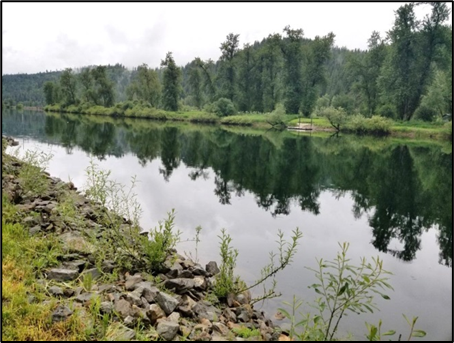 Rock and willow bundles (after restoration, 2020.
Status: Complete
Location:
The project is located on the St. Joe River approximately 10 miles upstream from St. Maries in Benewah County. The sites are on private land with 10 properties and nearly 1,500 feet of streambank.
Background:
The project was led by the Benewah Soil and Water Conservation District with funding support from the Idaho Department of Environmental Quality (DEQ) 319 Nonpoint Source Management subgrant, Avista, DEQ Lake Management Plan, the Restoration Partnership, and landowners. Overall, the project provided streambank stabilization and revegetation along the St. Joe River. Cottonwood trees were planted in the riparian zone with willows along the banks. Before restoration, the sites were on nearly vertical, bare, and unstable banks which provided little habitat value for fish and wildlife. The sites also contributed excess sediment, nutrients, and temperature loading to the St. Joe River. Bank heights were 5 to 15 feet. The site is not contaminated by mine waste and had good potential to provide healthy habitats for native trout and wildlife.
Restoration Completed:
Major construction for the project occurred in fall 2018. The engineering design was completed by the Idaho Soil and Water Conservation Commission, and used rock stabilization along with 320 willow bundles to stabilize banks. In 2019, cottonwood trees were planted in the riparian zone with monitoring of the site's condition and maintenance of the new structures and plantings. In total, the project treated 1,456 ft of streambank and approximately 0.5 acres of riparian area.
Benefits:
Outcomes of the project include reduction in sediment loads and associated nutrients, reduction in solar loading, and enhanced cover and habitat for fish and wildlife.
Contact:
Idaho DEQ Surface Water Manager
2100 Ironwood Parkway
Coeur d'Alene, ID 83814
(208) 769-1422

Sponsor:
DEQ
Partners:
Benewah Soil and Water Conservation District
Avista
Idaho DEQ – Coeur d'Alene Lake Management Plan
Idaho DEQ – 319 Nonpoint Source Management Program
Idaho Soil and Water Conservation Commission
Private Landowners