Robinson Creek Wetlands Restoration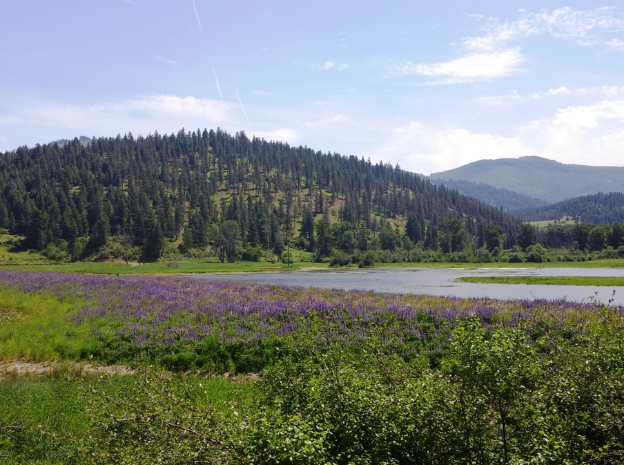 Robinson Creek Wetlands before restoration
Status: Complete
Location:
The Robinson Creek wetlands restoration area is located along the edge of the Coeur d'Alene River floodplain south of Rose Lake along Highway 3.
Background:
The restoration site is 62 acres of wetlands next to the 400-acre Schlepp wetlands restoration area. The Robinson Creek wetlands are part of the Idaho Department of Fish and Game's (IDFG) Coeur d'Alene River Wildlife Management Area. Robinson Creek flows through the area and had been channelized. The floodplain had been historically converted into pasture. Invasive reed canary grass dominated the wetlands and reduced plant diversity and habitat quality. IDFG acquired the property to create high quality, uncontaminated wetlands habitat for waterfowl and provide public access. Part of the wetlands restoration was funded by the Environmental Protection Agency and Idaho Department of Environmental Quality to provide wetlands mitigation within the Coeur d'Alene Basin to compensate for wetlands loss associated with expanding the Page Repository. The trustees funded the project under the 2007 Interim Restoration Plan.
Restoration Completed:
Reed canary grass population decreased after being treated with herbicide. Wetland plant species were planted along with woody and herbaceous terrestrial plants.
Benefits:
The Robinson Creek Wetlands Restoration project has provided 62 additional acres of clean wetlands for migratory birds and native fish.
Contact:
Idaho Department of Fish and Game 2885 W. Kathleen Ave. Coeur d'Alene, ID 83815 208-769-1414
Sponsor:
Idaho Department of Fish and Game
Partners:
Idaho Department of Environmental Quality
Environmental Protection Agency