Trapper Creek Fish Passage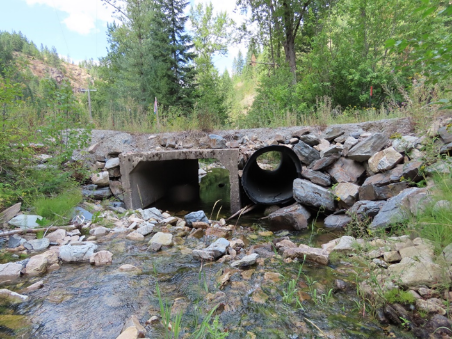 Before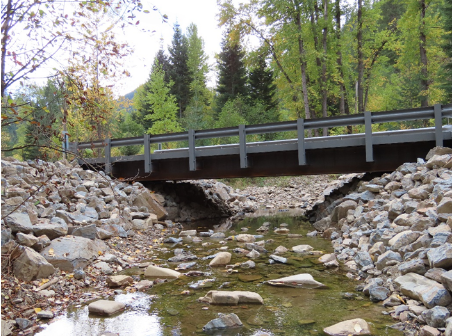 After
Status: Complete
Location:
Trapper Creek is a tributary to the East Fork of Pine Creek, a sub-watershed to the South Fork Coeur d'Alene River (SFCDR). Sub-watersheds to the SFCDR are listed as Tier 1 priority areas for stream restoration action in the Restoration Plan. The project is located off Trapper Creek Road that joins East Fork Pine Creek Road.
Background:
The current Trapper Creek stream/road crossing consisted of an undersized concrete box culvert and a retrofitted, broken plastic pipe. The hydraulically inefficient culvert configuration created a man-made barrier to passage of aquatic organisms due to 1) excessive velocity during periods of high flow and 2) excessive bedload deposition that restricts passage at low flows. The bedload deposition is causing portions of the creek (particularly near the culvert inlet) to go dry/subsurface in the summer, a detriment to aquatic organisms and inhabiting fish passage.
Restoration Completed:
The Trapper Creek Fish Passage project removed the undersized culverts impeding stream connectivity and replaced them with a bridge that spans the entirety of Trapper Creek. A bridge was used here because of its excellent hydraulic conveyance, low maintenance, ample longevity, and because it is the best crossing option for fish passage and connectivity. It allows for passage of all aquatic organisms (most importantly westslope cutthroat trout) at all times of the year and more natural transport of native sediments.
Benefits:
The project opens migratory corridors for all aquatic species to reach available habitat upstream/downstream for spawning, rearing, and feeding. Ultimately the project improved fish access to approximately 7 miles of upstream habitat.
Contact:
Idaho Department of Fish and Game
2885 West Kathleen Avenue
Coeur d'Alene, ID 83815
208-769-1414

Sponsor:
Idaho Department of Fish and Game
Partners:
Shoshone County
Bureau of Land Management

<