Cultural Harvest Opportunities within the Coeur d'Alene Reservation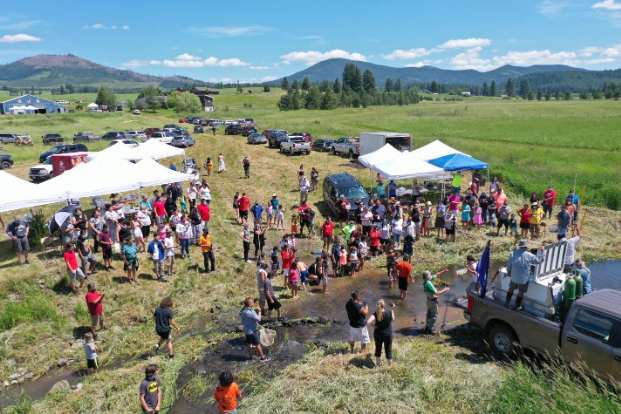 Stretch of Hangman Creek where a put-and-take fishery occurred.
Status: Complete
Location:
The Coeur d'Alene Reservation adjacent to Hangman Creek within Idaho.
Background:
The injury of natural resources and contamination of productive lands by the release of mining related hazardous substances in the Coeur d'Alene Basin has degraded aquatic habitats that traditionally supported salmonids which were a main staple and cultural resource for the Coeur d'Alene Tribe.
This project will return salmonids to the Coeur d'Alene People through the provision of a culturally significant put-and-take fishery, unimpeded by the hazards posed by mining contamination. Adult salmonids will be transported from donor facilities and released in the endemic waters of Hangman Creek. Access to the release site will be improved to enable the community to fully engage in cultural harvest activities. While the current project will support transport of salmonids for a limited time, the access will be available for use into the foreseeable future.
Restoration Completed:
In July of 2020, 75 adult salmon were translocated and released into upper Hangman Creek within the reservation boundaries. A significant number of community members, including tribal youth, were able to harvest adult salmon from Hangman Creek for the first time in over 100 years. This event was supported by Restoration Partnership funds and the Coeur d'Alene Tribe's outlook for salmon recovery and the importance to reconnect the Tribal community with salmon is very important. However, the potential locations along Hangman Creek within the current boundaries of the Reservation are no longer considered a priority for this action. Focus for an access site for harvest of salmon has shifted to lower Hangman Creek near the mouth of the Spokane River, of which is outside the Restoration Partnership project area.
Benefits:
Reconnecting the Tribal community, in particular Tribal youth, to the lost cultural service of salmon harvesting in the Hangman Creek drainage within the Reservation boundary.
Contact:
Coeur d'Alene Tribe
850 "A" Street
PO Box 401
Plummer, ID 83851
208-686-1800

Sponsor:
Coeur d'Alene Tribe
Partners:
Leavenworth National Fish Hatchery (USFWS)
Chief Joseph Fish Hatchery (Confederated Tribes of the Colville Reservation)
Washington Department of Fish and Wildlife