Red Ives Dam Removal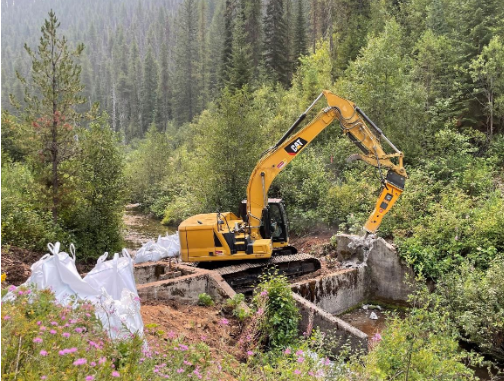 Initial demolition of dam.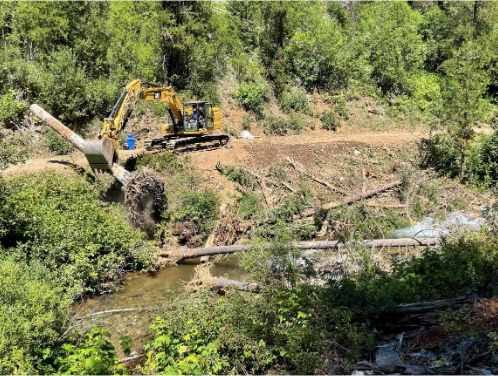 Habitat enhancement of dam site.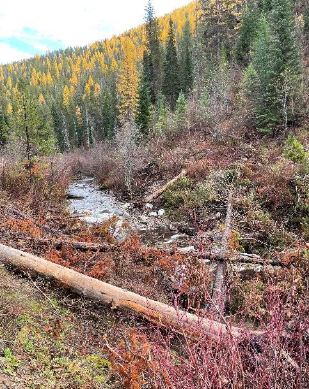 Two months after dam removal.
Status: Complete
Location:
The Red Ives Dam Removal project site is in the Idaho Panhandle National Forests in the headwaters of the St. Joe River located approximately ¼ mile upstream of the historic Red Ives Ranger Station.
Background:
In 1935, the Civilian Conservation Corps constructed a 25' wide concrete low head dam on Red Ives Creek to provide hydroelectric power for the nearby Red Ives Ranger Station. The Forest Service abandoned use of the dam in 1960 but it remained as a partial barrier to Bull Trout and other native fishes. Due to the small population size of Bull Trout, and because the headwater tributaries of the St Joe River contain the last remaining Bull Trout population in the entire Coeur d'Alene Core Area, Red Ives Creek was prioritized for restoration which started with the removal of the dam.
Restoration Completed:
Nearly 60 yards of concrete and steel were removed with the demolition of the dam. The longitudinal profile of Red Ives Creek was re-established using boulders and aggraded stream alluvium captured behind the dam. Approximately 200 feet of stream bank was stabilized, and 15 logs and logs with rootwads were utilized for habitat enhancement.
Benefits:
The removal of the Red Ives dam has allowed Bull Trout and other native fishes access to 5 miles of spawning and rearing critical habitat.
Contact:
Idaho Panhandle National Forests
St. Joe Ranger District
222 South 7th St., Suite #1
St. Maries, ID 83861-1847
208-245-2531
*Attention Fisheries Biologist

Sponsor:
USDA Forest Service
Partners:
U.S. Fish and Wildlife Service
Idaho Conservation League
U.S. Silver-Idaho Inc.
Trout Unlimited