Prichard Creek Conservation Easement and Restoration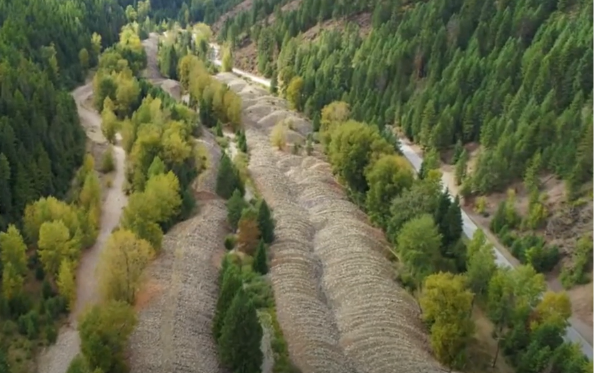 Dredge spoil piles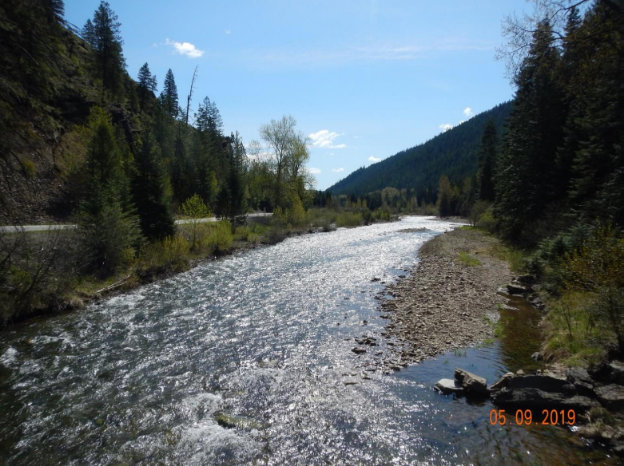 Prichard Creek
Status: Ongoing
Location:
The Prichard Creek project area is on private property owned by Idaho Forest Group extending nearly the length of Prichard Creek from the North Fork Coeur d'Alene River confluence upstream to the Prichard Creek headwaters near Thompson Pass. The communities of Prichard and Murray are near the project area and the land surrounding the project area is largely public land managed by the U.S. Forest Service and Bureau of Land Management.
Background:
Prichard Creek provides important habitat for native trout and wildlife, but the area has been significantly degraded by past mining practices. A large, in-stream floating dredge turned over about five-miles of the Prichard Creek floodplain from 1917 through 1926 and left behind large dredge piles of rock. Historic mine and mill sites upstream contaminated some areas with metals. The stream's physical processes, riparian vegetation, hydrology, and aquatic habitat were degraded with some stream reaches drying up during portions of the year. However, Prichard Creek also provides cold water, excellent off-channel habitat in the lower reach and has immense potential once restored.
Restoration Completed:
Idaho Forest Group is currently in the process of putting nearly 2,000 acres into a conservation easement (1,023 acres of riparian habitat and 921 acres of forested uplands) that will be held by Kaniksu Land Trust. This will ensure long-term protection of the stream and its floodplain and create long-term security for the future restoration work.
A multi-phase restoration plan is in development to guide restoration activities that will restore native vegetation and enhance stream habitat. This project entails collecting necessary information about the drainage and creating a large-scale, multi-phased restoration plan for the entire project area.
Construction for phase one is scheduled to begin in the summer of 2023. Designs have been finalized and the contract has been awarded to a qualified contractor with restoration experience. Phase one will focus on native plantings and creating large woody features in the channel and floodplain of Prichard Creek below near to the confluence of Eagle Creek and Prichard Creek. The woody structures and plantings will promote stabilization of the channel, diversification of habitat features such as increasing pools and cover, and floodplain connectivity to enhance aquatic life habitat.
Plans for future phases of restoration in Prichard Creek will be developed after groundwater level and flow studies of the creek are concluded and analyzed. Knowledge of the groundwater hydrology will crucial moving forward to determine the most desirable and achievable restoration alternatives depending on budget and feasibility.
Benefits:
The goal is to add complexity and connectivity within the channel and with the floodplain of Prichard Creek. This will improve habitat for all life stages of westslope cutthroat trout and other aquatic organisms. Another goal is increase vegetation within the riparian area. 10.5 stream miles will be improved and provide habitat for native trout. The restoration of this property will also bring recreational and education opportunities to the public.
Contact:
Idaho DEQ Surface Water Manager 2100 Ironwood Parkway Coeur d'Alene, ID 83814 (208) 769-1422 Todd.higens@deq.idaho.gov

Idaho Forest Group 208-762-2969 rahlf@ifg.com

Trout Unlimited 208-263-5310 ext 107 erin.plue@tu.org

Sponsor:
Idaho DEQ
Partners:
Idaho Forest Group
Trout Unlimited
Idaho Department of Fish and Game
Kaniksu Land Trust
Bureau of Land Management
Idaho Department of Lands
Shoshone County
US Fish and Wildlife Service
Idaho Fish and Wildlife Foundation