uł qhesu'lumkhw (Land is Good Again): Culturally Significant Plant Restoration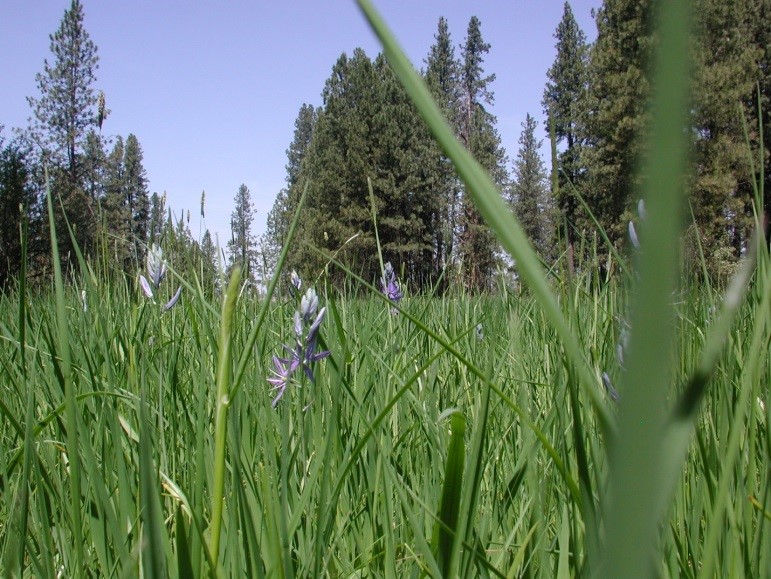 Example of a camas meadow, a plant of cultural importance to the Coeur d'Alene Tribe
Status: Ongoing
Location:
Hangman Creek Tribal Property.
Background:
The Hangman Creek watershed, within the Coeur d'Alene Reservation has been identified in the Restoration Plan (page 43) as a geographic area where restoration projects designed to address lost human uses important to the Tribe would be considered. The project objective is to restore culturally significant plants and to reestablish culturally significant human uses that flow from these resources. The project operates on Tribal land that is in close proximity to Tribal membership population centers to compensate for interim natural resource losses due to mining impacts in the Coeur d'Alene Basin. The Hangman Creek drainage is the only area in which this project operates; 1) because of the expansive contamination in other parts of the Planning Area and 2) because a significant amount of floodplain is available in Hangman to support an abundance of culturally significant plants and opportunities that their restoration provides.
The work is guided by Traditional Indigenous Knowledge passed down by Tribal elders that provides unique cultural activities during the actual restoration process. Culturally Significant Plant Restoration in Hangman Creek will increase the plant diversity within floodplain and wetlands habitats as these specific plants are not a focus of other restoration processes. The Coeur d'Alene Tribe's Wildlife Program has established stream, riparian zone and floodplain habitat restoration sites within the Hangman Watershed. These Project Sites are funded variously, through investments from the Coeur d'Alene Tribe, Bonneville Power Administration Mitigation programs, Avista Wetlands Mitigation, and the Department of Interior Conservation Reserve Programs. However, these restoration processes focus on partnering with beaver and focus on the restoration of vegetation patterns that favor beaver, which include plants of the Salicaceae Family. While a few of the Salicaceae species, willow particularly, are also listed as Culturally Significant resources, the overwhelming majority of Cultural plants are not included in processes that partner with beaver.
Restoration Completed:
This project is ongoing with the establishment of the culturally significant shrubs and trees, and the restoration of camas for harvest is part of a much larger process of restoring the natural resources that provided sustenance to the Coeur d'Alene's. The restoration of Culturally Significant plants can still be considered in its initiation phase; however, accomplishments during these first years of implementation are reason enough for optimism that the desired outcome can be reached. Also, these initial trials have provided insight into how best to proceed with restoration in order to quicky restore lost Cultural Resources.
The remaining, isolated, small patches of camas have been mapped. These camas meadows are being rejuvenated through a process of active harvest and the addition of char to the soil to retain soil moisture and nutrients. Initial efforts to restore camas to a 4-acre field have provided insight into methods that will expand the extensiveness of camas across the Hangman Floodplain. Camas planting trials with bulbs and seeds have highlighted the advantages and disadvantages of each of these restoration processes. While planting camas bulbs is clearly effective, individually planting bulbs is arduous and time consuming. Dispersing seed is less effective but a much larger area can be effected. Both methods will be used as opportunity allows until a clear advantage is demonstrated by one or the other.
Culturally Significant shrubs and trees from 1-gallon nursery stock have been planted on 86.3 acres at 5 project sites. While survival of these plants is adequate, the small size of plantings results in a longer period of establishment than desired. A shift to 5-gallon nursery stock will bolster survival and decrease the duration of establishment and Cultural Plan availability.
Benefits:
These first 4 years of implementation have resulted in a much clearer understanding of how best to proceed with returning an abundance of native, culturally significant plants and habitats. Larger nursery stock may well be more expensive per plant, but when compared to the survival rates and duration of establishment of smaller plants, the added per plant investment will most likely prove less expensive in the longer term. Our experience with camas has proven that a single plant must be considered in its context of ecology and pattern of human use.
Contact:
Coeur d'Alene Tribe
850 "A" Street
PO Box 401
Plummer, ID 83851
208-686-0312
Gerald.green@cdatribe-nsn.gov
Sponsor:
Coeur d'Alene Tribe
Partners:
Bonneville Power Administration
AVISTA
U.S. Department of the Interior