Guł Hnch'mchinmsh Native Willow Nursery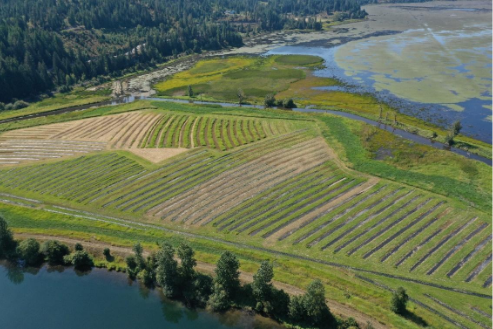 Native Willow Nursery
Status: Ongoing
Location:
The Coeur d'Alene Reservation adjacent to Hepton Lake along the St. Joe River.
Background:
Aquatic ecosystem restoration is an evolving discipline, encompassing a wide array of approaches, many of which are defined by current and desired conditions and the degree of departure from undisturbed reference sites. Where restoration in the past may have been focused on treating symptoms of disturbance, such as reducing erosion through hardening of streambanks, a desirable alternative is to remove the source of disturbance and facilitate the recovery of natural processes. Accordingly, the Trustees involved with the Restoration Partnership have embraced a process-based approach which more effectively integrates fluvial, geomorphic and biological processes to recover and maintain aquatic system resilience. One benefit of this changing approach is the greatly reduced need for material inputs and continued manipulation over time as natural processes are allowed to come into equilibrium. The role and use of native plant materials is an integral component of most restoration prescriptions that adhere to this approach.
Much of the wetland, stream and lake habitats prioritized for treatment by the Restoration Partnership has been degraded or significantly altered by anthropogenic activities. The major restoration actions prescribed for each of these resource categories in the final restoration plan emphasize a reliance on the functions and values imparted by native plant communities to some degree. The need for native wetland plant species, especially woody species like willows, greatly exceeds their availability in the natural environment. Reliance on commercial nurseries alone to meet these needs will be an exceedingly costly proposition that places an excessive burden on the limited financial resources available to Trustees in implementing projects. The Coeur d'Alene Tribe proposes to establish a nursery for native willow species that can be made available for restoration projects in an effort to reduce costs over time.
Restoration Completed:
Ten species of native deciduous plants have been established across 17 acres of nursery for harvest of live poles to support restoration across a variety of wetland and floodplain habitats. The following identifies the willow species available in the nursery and their associated growing habitats and habits and an associated Standard Operations Plan helps guide the Tribe and Trustees on annual willow availability for restoration projects in the Restoration Planning Area: Sandbar, Coyote, Geyer, Drummond, Pacific, Sitka, Bebb, and Mackenzie. Black Cottonwood and Redosier Dogwood have also been planted along the east end of the nursery.
Benefits:
40% of the plant materials available for harvest at the end of each growing season will be allocated to the Tribe for use in their projects, while the remaining 60% of available materials will be allocated and shared among the other trustees that make up the Restoration Partnership, including the Dept. of Interior (USFWS, BLM), Dept. of Agriculture (USFS), and the State of Idaho (IDFG, IDEQ). The materials allocated to these other trustees are intended for use in projects funded by the Restoration Partnership and located within the Coeur d'Alene Basin Restoration Planning Area.
Contact:
Coeur d'Alene Tribe
850 "A" Street
PO Box 401
Plummer, ID 83851
208-686-8902
ehendrickson@cdatribe-nsn.gov
Sponsor:
Coeur d'Alene Tribe
Partners:
USDA Panhandle National Forest Nursery and staff
Bonneville Power Administration
Wildlife Habitat Nursery