LiDAR Acquisition in Priority Restoration Areas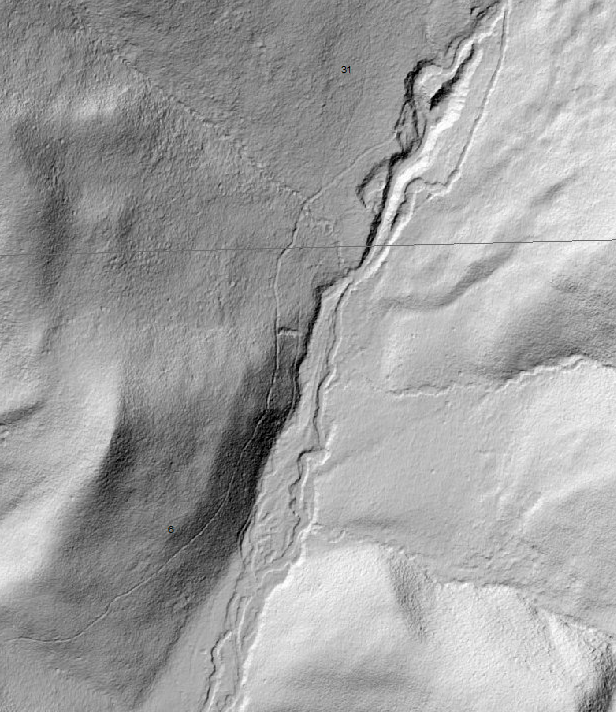 LiDAR imagery, like this bare earth hillshade imagery example, can show the active stream channel, old channels, active and abandoned roads, landslides, and other features.
Status: Complete
Location:
Data was collected for three watersheds in the North Fork Coeur d'Alene River subbasin (Beaver Creek, Prichard Creek, and Eagle Creek) and two watersheds that are tributaries to Coeur d'Alene Lake (Beauty Creek and Carlin Creek).
Background:
Light detection and ranging (LiDAR) uses laser imagery to show highly-detailed topographic data. The selected watersheds are good candidates for potential restoration benefiting injured resources like native trout.
Restoration Completed:
This project builds upon a large, cost-effective, cooperative LiDAR data collection effort. A contractor flew a drone over the selected watersheds and collected LiDAR data. This provided accurate topographic data and assisted in restoration planning.
Benefits:
These data will be publicly available online through the Idaho LiDAR Consortium with valuable information about the watersheds and habitat. This will provide a strong foundation and head start for restoration planning.
Contact:
Idaho Panhandle National Forests Coeur d'Alene River Ranger District Silver Valley Office 173 Commerce Drive Smelterville, ID 83868-0159 208-783-2363 *Attention Restoration Biologist
Sponsor:
USDA Forest Service
Partners
Idaho Department of Lands
University of Idaho
Bureau of Land Management
PotlachDeltic Corporation
Stimson Lumber Company
Bennett Lumber Products