Guł Hnch'mchinmsh - Snyihms he mulshu'lmkhw (Swimmers Landing among the Cottonwoods) -Hepton Lake Wetland Restoration Project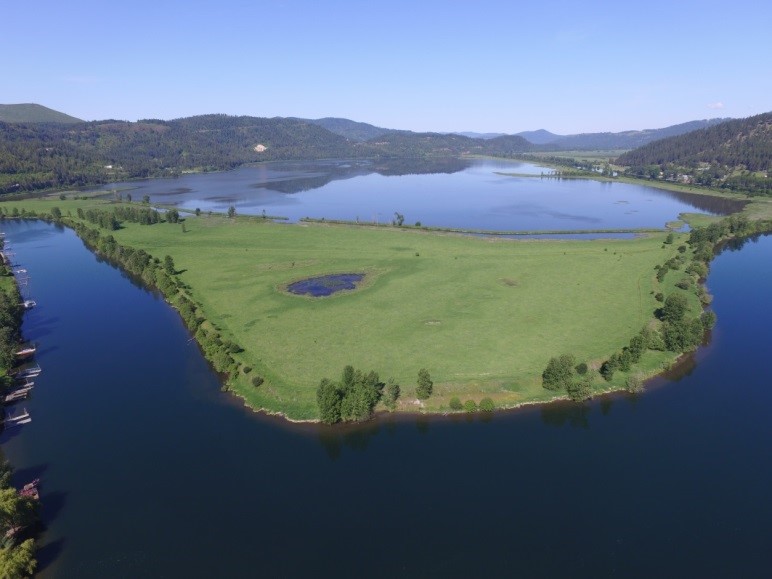 The Hepton Lake site along the St. Joe River.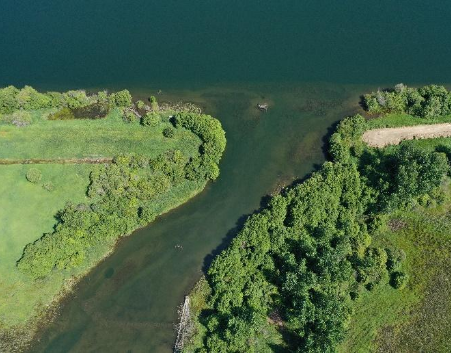 The Hepton Lake site along the St. Joe River.
Status: Ongoing
Location:
The Snyihms he mulshu'lmkhw (Swimmer's Landing among the Cottonwoods) Project is in Hepton Lake, which is in the St. Joe River Subbasin in northern Idaho within the Coeur d'Alene Tribe Reservation boundary.
Background:
Hepton Lake is a 1,180-acre lake that was formed in 1996 when the levee along the St. Joe River breached and water poured into the adjacent farm field. Following the breach, the property was placed in a wetland reserve easement through the Natural Resource Conservation Service and then subsequently purchased by the Coeur d'Alene Tribe. The property currently exists as a shallow, uniform expanse of open water bordered by emergent wetlands that is inundated by backwater during the summer-time operation of Post Falls Dam.
During the pre-settlement era, the site was a floodplain marsh and wet meadow complex fringed by naturally formed channel margin levees, and was regularly inundated by overbank flows from the St. Joe River. The presence of culturally significant plants and numerous wildlife species supported a high level of utilization by the Coeur d'Alene People, and especially by those calling themselves hnch'mchinmsh (people from the mouth of the St. Joe and St. Maries rivers).
Restoration Completed:
The Coeur d'Alene Tribe worked with an engineering consultant to design a levee breach plug that would allow for water management to meet multiple resource objectives while maintaining connectivity with the St. Joe River during flood flows. All relevant permits and authorizations have been secured and major construction is schedule for the summer of 2023. Because construction of the project will result in unavoidable impacts to cultural properties, several mitigation requirements are being adhered to. Many of these have been completed prior to construction, including establishing cottonwood, aspen, birch and willows on an adjacent property. Monitoring of ground water levels, waterfowl usage, and emergent wetland plant communities on the property is being conducted before and after construction. This information will help document project effects and be used to develop a management plan for establishing culturally important native plants in the future.
Benefits:
While a return to pre-settlement conditions is not possible, the Snyihms he mulshu'lmkhw Project offers significant opportunities to improve wildlife habitat in a unique wetland system, optimize hydrology for the benefit of culturally significant wetland plant species, improve water quality, and provide necessary and effective controls for invasive species. The project is consistent with several regional planning efforts focused on restoration and mitigation of natural resource and species of special management concern. Moreover, the project supports traditional hunting and gathering practices in an area uncontaminated by the mining waste effluent that is prevalent in other parts of the Coeur d'Alene Basin, and where such cultural uses have been precluded.
The project will expand suitable habitat conditions for the 17 species of waterfowl that have been documented on the site – most notably tundra swans that use the area during critical spring and fall migration periods. Water management should also benefit many wetland plant species, including sqigwts (Sagittaria latifolia) - a high energy food (99 kcal/100g) that is a significant source of minerals and vitamins in the traditional Coeur d'Alene diet. Finally, the project will preclude utilization of the site by northern pike, an invasive non-native predator, and is considered a high priority action that must be taken to prevent irreversible decline of native fishes in the foreseeable future.
Contact:
Coeur d'Alene Tribe
850 "A" Street
PO Box 401
Plummer, ID 83851
208-686-6903
Angelo.vitale@cdatribe-nsn.gov
Sponsor:
Coeur d'Alene Tribe
Partners:
USDA Natural Resources Conservation Service
Bureau of Indian Affairs-Invasive Species Program
Bonneville Power Administration
U.S. Fish and Wildlife Service, Army Corps of Engineers, Tribal Historic Preservation Office