Gray's Meadow Restoration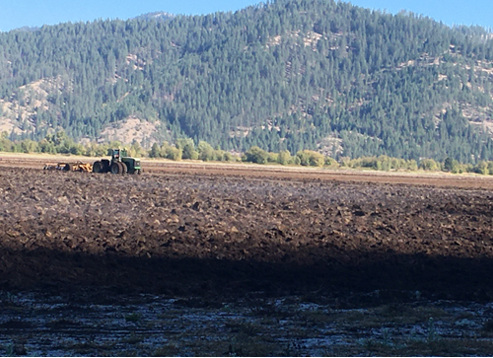 Tilling a portion of the Lamb Peak wetland basin
Status: In Progress
Location:
The Gray's Meadow Restoration project area is located on the Idaho Department of Fish and Game (IDFG) Coeur d'Alene River Wildlife Management Area within the floodplain of the Coeur d'Alene River near Black Lake in Kootenai County. The site includes areas both upstream and downstream from the Black Lake outlet channel. It includes approximately 300 acres of uplands and 700 acres of potential wetland and floodplain riparian habitat including 5 miles of Coeur d'Alene River streambank and 3,800 feet of Black Lake shoreline.
Background:
Wetlands in the Coeur d'Alene River floodplain are affected by a legacy of mine waste contamination, including metals that are harmful to waterfowl and other wildlife. Wetland habitats have also been altered with installations of ditches and drains for agricultural development. Identifying, conserving, and restoring sites with strong potential for high quality wetland habitat is needed for waterfowl, especially areas where birds can feed without experiencing lead poisoning.
The Gray's Meadow Restoration property was previously used for hay production and horse and cattle pastures. To facilitate agricultural production a system of ditches and pumps were used to dry the fields. Consequently, Black Lake has a long history of water quality impairment because nutrient-rich water was pumped from the project area's agricultural fields into the lake. The Trail of the Coeur d'Alenes somewhat protects the site from contamination in the Coeur d'Alene River's floodwaters, which allows the site to have relatively low lead concentrations in the soil and low recontamination risk. The beneficial public use values and habitat potential of the site compelled IDFG to acquire the property and initiate this project to cleanup and restore the area.
Progress:
This project will ultimately result in restoration of up to 700 acres of contaminated floodplain, with agricultural lands restored to semi-permanent wetlands and waterfowl habitat. IDFG is leading the project in coordination with EPA and the Restoration Partnership. Progress to date includes:
Completion of soils characterization and estimating the total contaminated soil volume.
Completion of fine scale topographic surveys.
Completion of hydrological studies to determine water budget and estimate timing, movement, and volume of surface and ground water throughout the year.
Completion of fully engineered infrastructure, remediation, and restoration construction design drawings and technical specification packages.
Completion of improved access infrastructure to facilitate construction traffic in the short-term and recreational access in the long-term. The access road was widened and resurfaced. The smooth-wire fence that separated bike traffic on the Trail of the Coeur d'Alenes and motorized access to the project area was replaced with a modular concrete "Jersey Barrier" wall to increase public safety.
Rerouted wetland water transfer discharge from Black Lake to the Coeur d'Alene River to mitigate water quality impacts to Black Lake.
Awarded the final construction contract and initiated remediation tilling and excavation.
Plans:
Excavating wetlands, re-grading soils, and constructing nesting or loafing islands for birds
Adding water-control structures and managing water levels to optimize wetland recovery and habitat restoration
Revegetating the site with grasses, sedges, forbs, shrubs, and trees.
Benefits:
The project will ultimately restore wetlands and waterfowl habitat. These efforts will benefit waterfowl and other wildlife by increasing the amount of functioning, high quality habitat, and improving nutrient filtering and water quality.
Contact:
David Leptich
Regional Wildlife Habitat Biologist
Idaho Department of Fish and Game
2885 W. Kathleen Ave.
Coeur d'Alene, ID 83815
(208) 769-1414
david.leptich@idfg.idaho.gov
Sponsor:
Idaho Department of Fish and Game
Partners:
U.S. Environmental Protection Agency
Idaho Department of Environmental Quality