Castle Rock Ranch – North Fork Coeur d'Alene River Riparian Restoration Project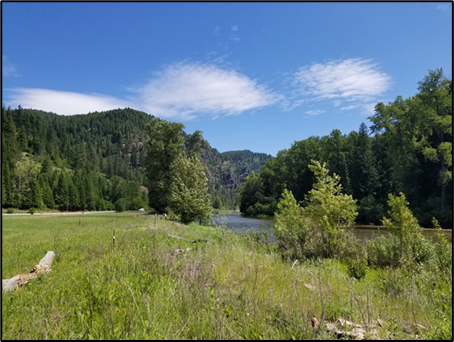 Pre-restoration, the Castle Rock Ranch property along the North Fork Coeur d'Alene River lacked healthy riparian vegetation.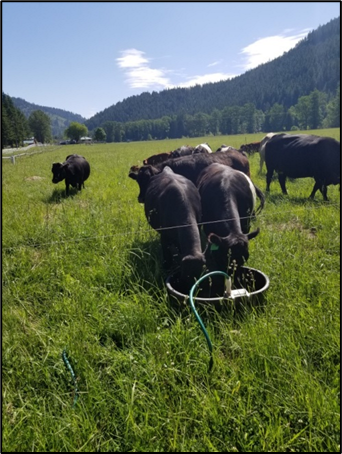 Cows grazing and drinking water on Castle Rock Ranch.
Status: Complete
Location:
Castle Rock Ranch is a privately-owned cattle ranch located near the North Fork Coeur d'Alene River about 20 miles north of Interstate 90 on Old River Road.
Background:
Past land use resulted in limited trees and shrubs along the river and its floodplain. The lack of riparian vegetation has degraded habitat for native trout and wildlife. The property is now in a conservation easement and the ranch owners raise cattle in a sustainable manner emphasizing how ranching and conservation can work together. They have recently improved fencing and irrigation systems. This project is part of their vision to further improve the fish and wildlife habitat values of the property.
Restoration Completed:
Native trees and shrubs were planted along the river and on the floodplain to enhance the riparian zone. Fencing and plant protectors were installed to prevent wildlife and livestock browse on the new plantings until the plants become established.
Benefits:
This project enhances 8 acres of riparian zone, provides higher quality habitat for wildlife and native trout, and improves the scenic beauty of the river corridor. Water quality will be improved with reduced sediment, temperature, and nutrient inputs to the watershed. The property is highly visible and will serve as a demonstration project for protecting and restoring shoreline and floodplain vegetation.
Contact:
Idaho DEQ Surface Water Manager
2100 Ironwood Parkway
Coeur d'Alene, ID 83814
(208) 769-1422

Sponsor:
Idaho DEQ Surface Water Manager
Partners:
Natural Resources Conservation Service (NRCS)
Kootenai-Shoshone Soil and Water Conservation District
Idaho Soil and Water Conservation Commission
Landowners